Congratulations to Ariana Gonzalez on her acceptance to The University of Texas at Arlington and to Texas Woman's University #WolvesAreCollegeBound @twuniversity @utarlington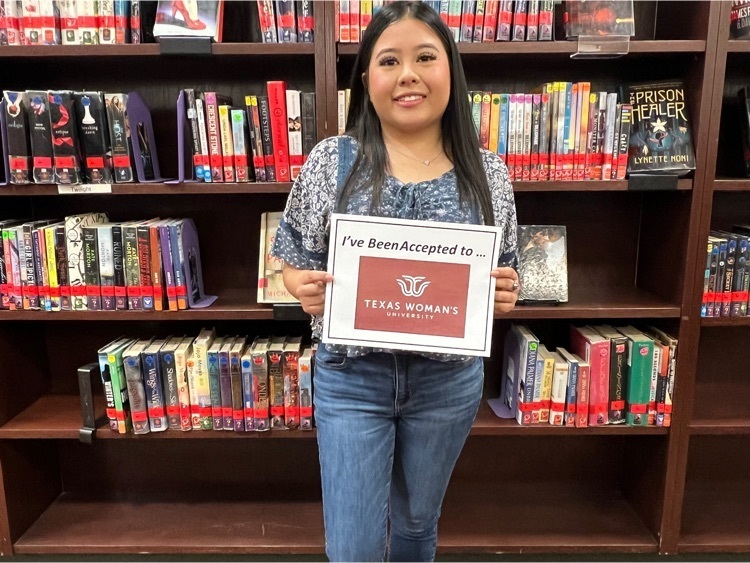 Congratulations to Dylan Moore, Madison Stady, Braely Heiser, Abigail Amaya, Meadow Hurd, and Matt Lees. They all did a great job today at the Rebel Center Tennis Tournament in Amarillo. Dylan Moore & Madison Stady - A-Division Girls Doubles Third Place Braely Heiser - B-Division Girls Singles Consolation Champion Abigail Amaya & Meadow Hurd - B-Division Girls Doubles 3rd Place Matthew Lees - B-Division Boys Singles Consolation Champion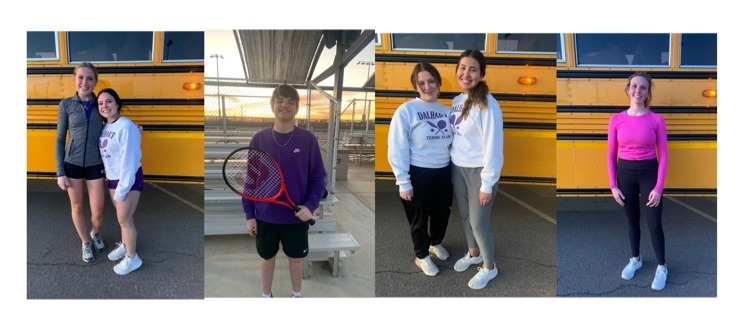 Congratulations to Emily Gaines, Ayush Sukha, and Canton Forry for winning the Small School Rebel Center Tournament in Amarillo. Emily Gaines - A-Division Girls Singles - 1st place Ayush Sukha & Canton Forry - A Division Boys Doubles - 2nd Place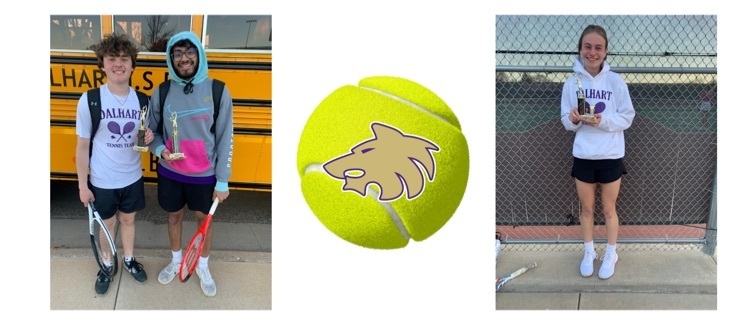 Dalhart FFA Dairy Cattle Judging Team just Won Houston!! There were 97 teams and 338 individuals. Hailey Nolt was High individual, Kirsten Bezner was 19th individual. Team Members: Hailey Nolt Kirsten Bezner John Taylor Zoe Meeks Ximena Zendejas Maggie Meeks

Helping get books ready to be shelved at the Elementary library!!

Great day for some baseball!! (not much wind either)

Tuesday's baseball games vs. Sunray have been changed to TODAY, Monday, Feb 27 @ 4:30 Today's soccer games vs. Guymon have been cancelled.

Anyone wanting to order a Regional Qualifiers Powerlifting T-Shirt, please email Coach Metcalf (
jeff.metcalf@dalhartisd.org
), with sizes by 2pm tomorrow (Tuesday, Feb 28). They are $20 per shirt.

Congratulations to Madi Pedraza on being selected as an Honorable Mention for Class 2-5A Amarillo Globe News Superteam! Way to, go Madi!!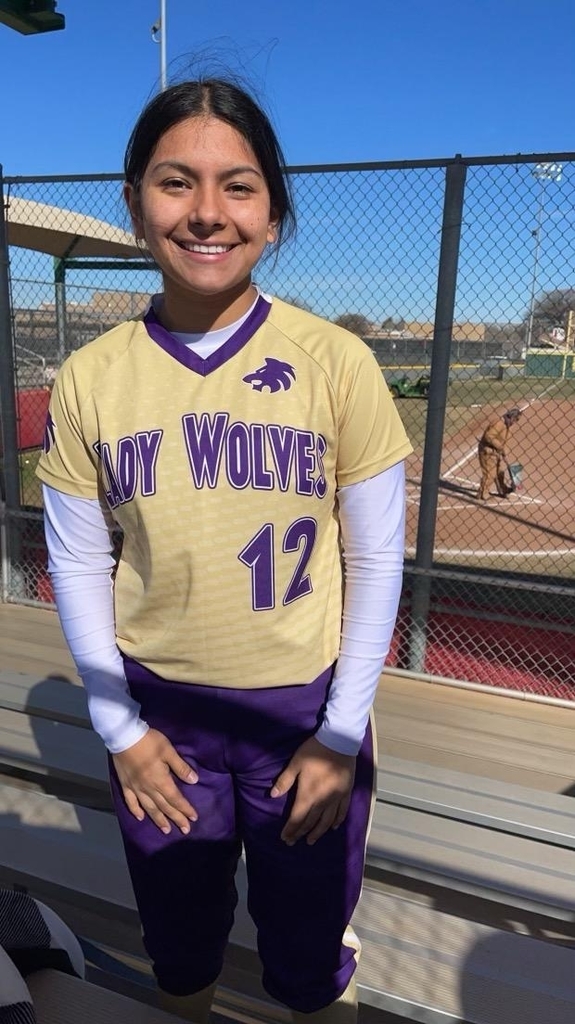 Big thank you to everyone who came and supported and helped out at the JV Softball Tournament!!

Huge shoutout to Dimmitt High School Cheerleaders for honoring Preston during halftime of their game. Thank you, Dimmitt!!!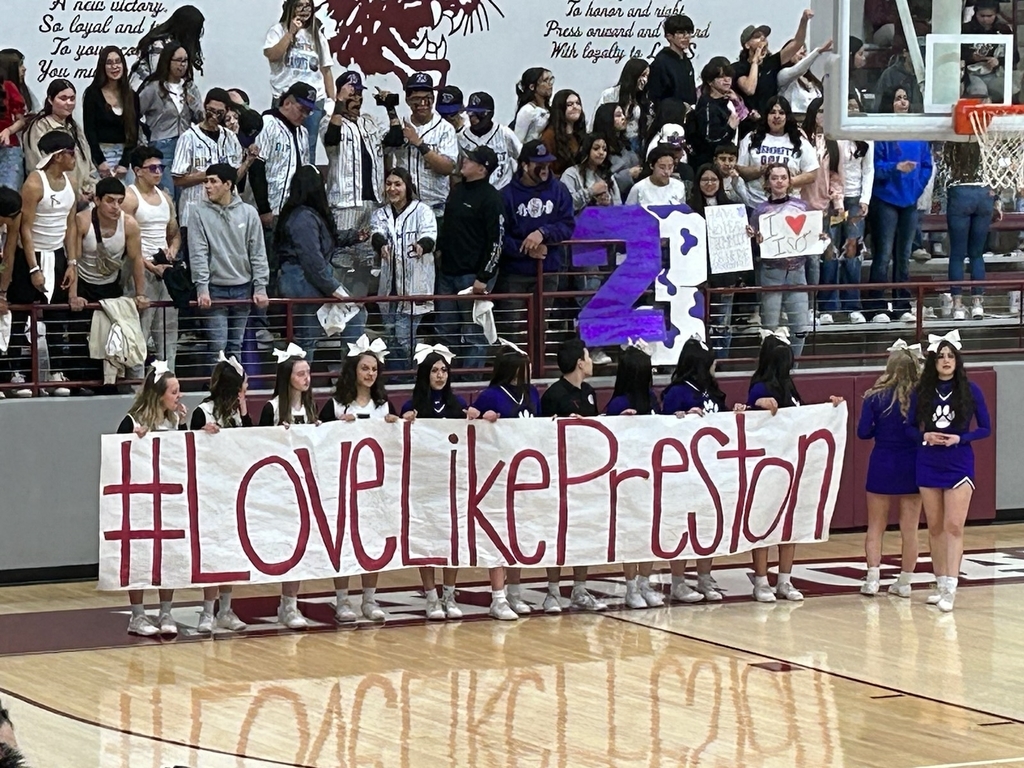 After a very cold start, here are the results of Day 1 of the JV Softball tournament!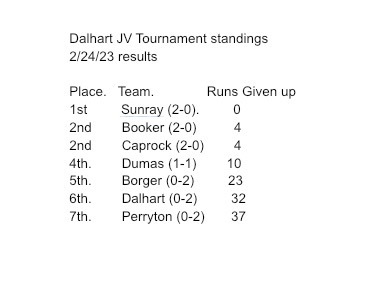 This is Samantha! She goes to the Elementary school in the afternoon, and one day last week she stepped up and helped out Nurse Wright with a very busy office. She did this without being asked, and helped the situation immensely! We are very proud of her!!

Next is Brayden! Brayden turned in a pair of Airpods that had been lost, and he figured out who they belonged to. The young lady was very grateful to have her Airpods returned! Excellent example, Brayden!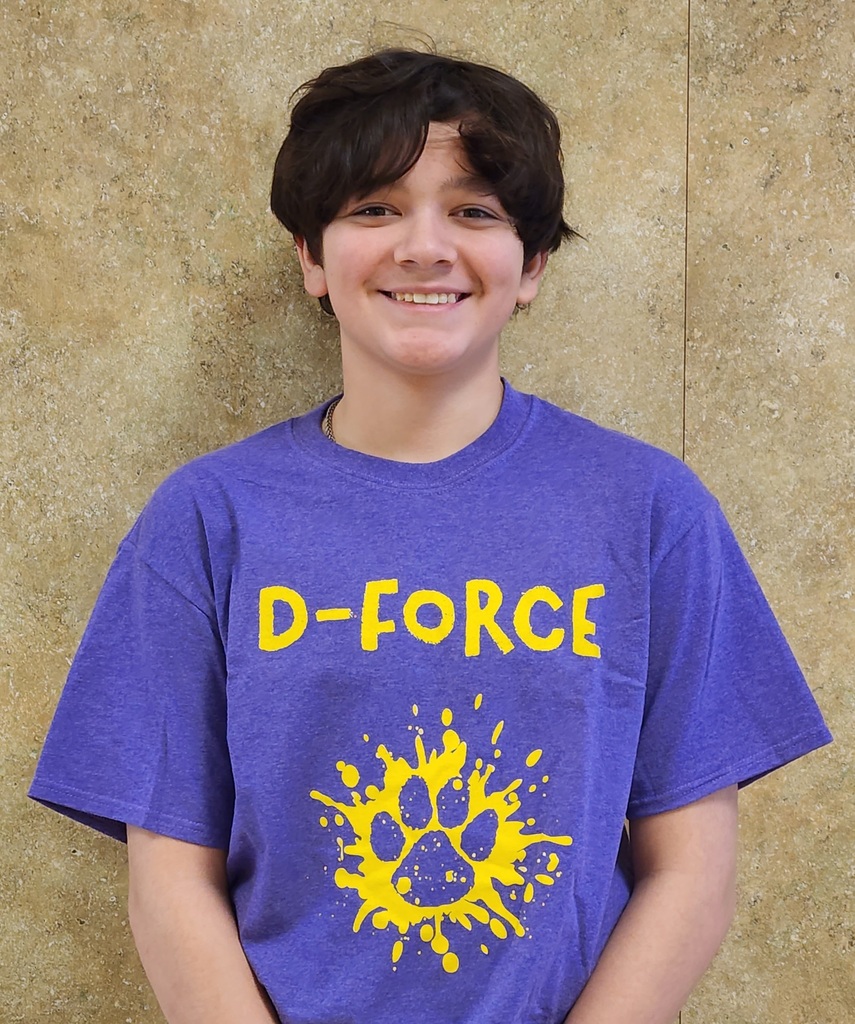 We have some D-Force kiddos to brighten up your Friday! First is Ryleigh who received a D-Force from Mrs. Krahn for helping another student out in a medical emergency. She remained calm, kept the other student safe, then got help when it was okay to do so. We are proud of her!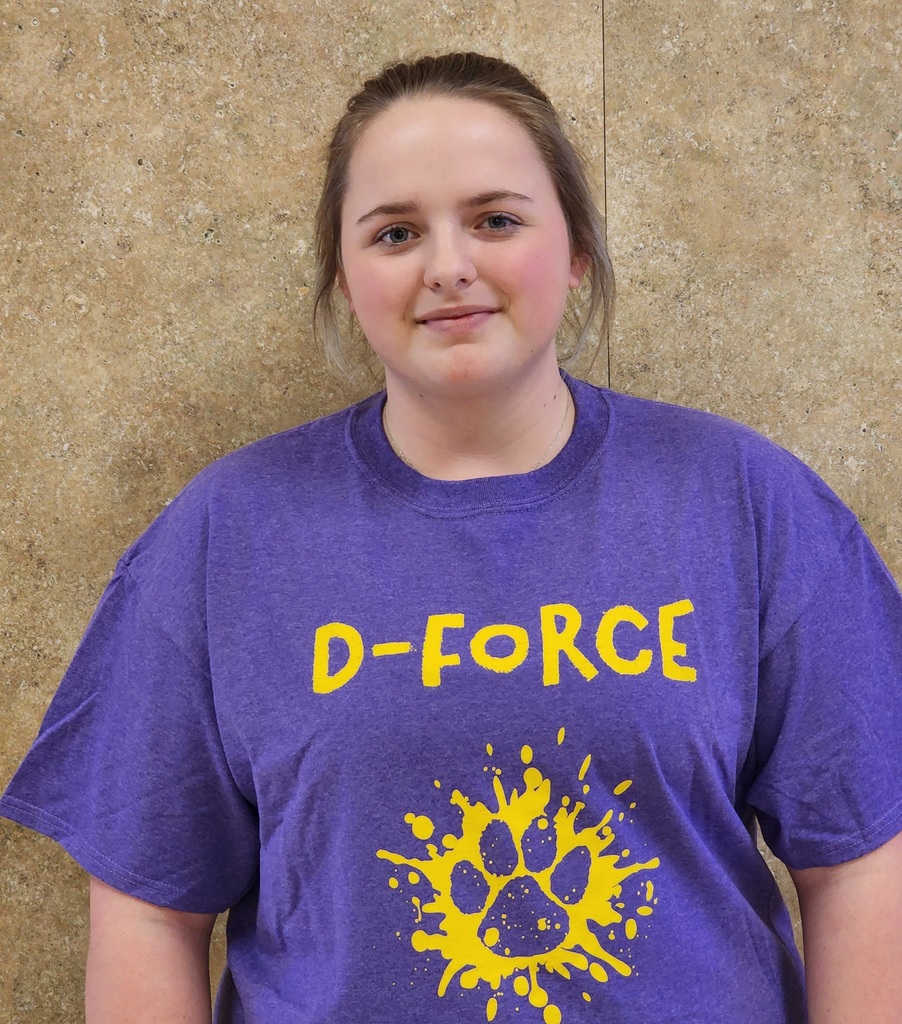 Attention High School Parents, please let your students know that the Dalhart Ministerial Alliance will be at the high School from 8:00-8:30 on Friday, February 24 and March 3. If they would like to visit with someone.
Congratulations to Payton Ralston!! She placed 2nd in the Lightweight Yorkshire Class!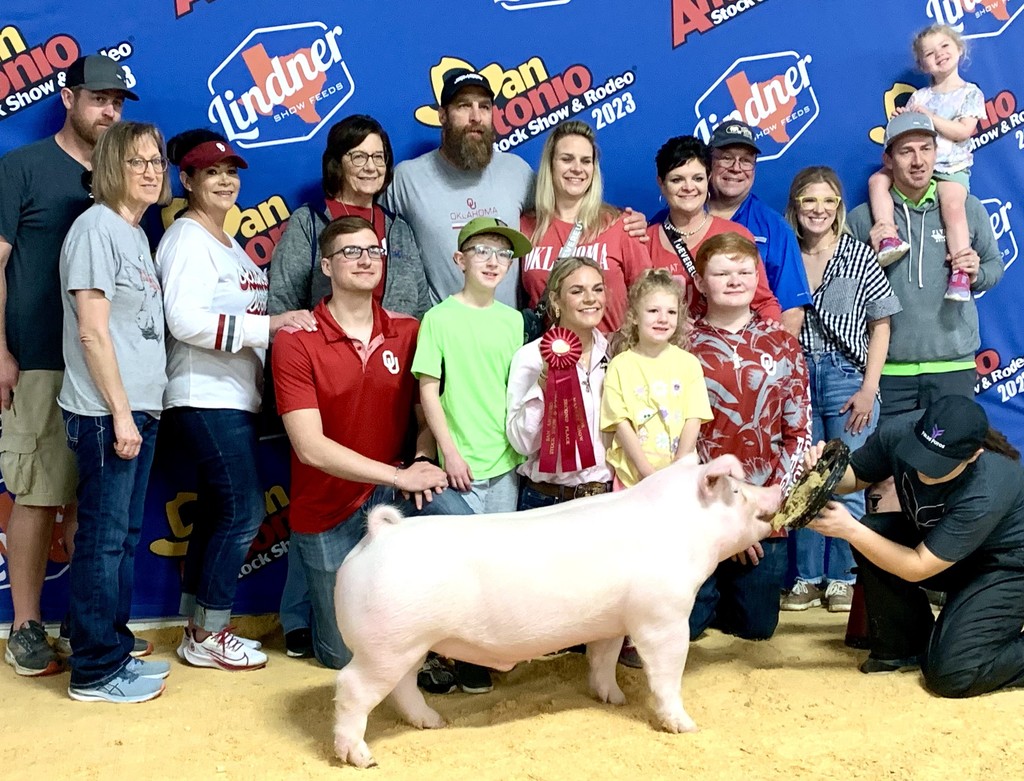 Congratulations to the Dalhart Lady Wolves' varsity basketball team!! These players are the P&P Delco Female Athletes of the Week! They include back row l-r: Elizabeth White, Kammi Maddox, Avery Baca and Anahi Huaracha. Middle row l-r: Dylan Moore, Karlee Johnson, Reese Wieck and Jady Trusler. Front row l-r: Evelyn Quiroz, Addison Bowers and Katelynn Hickey.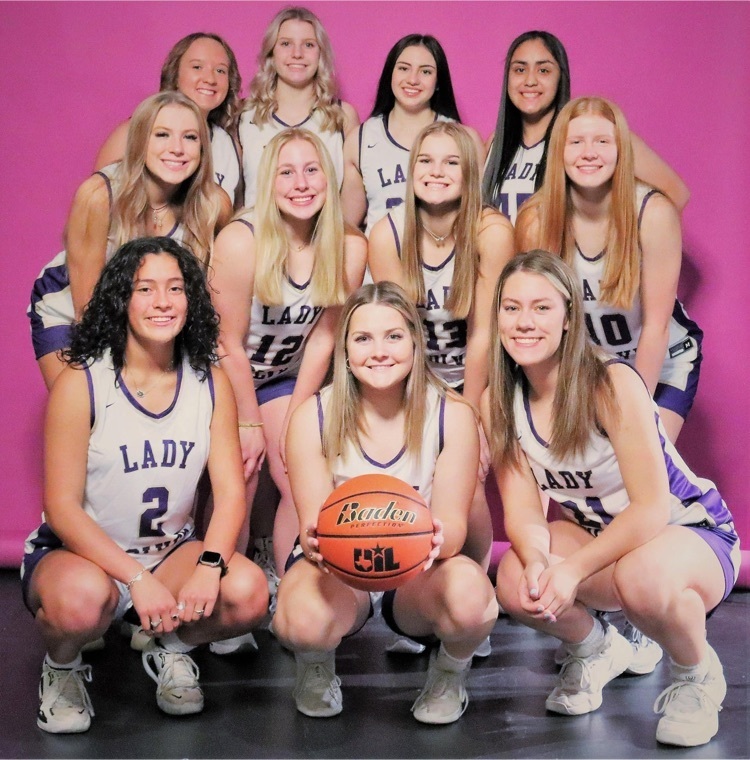 At tonight's School Board Meeting recognizing the Lady Wolves Playoff Basketball Team and All-Region Band Members Stephanie Hinojosa, Emilliano Camacho, & Jacob Norris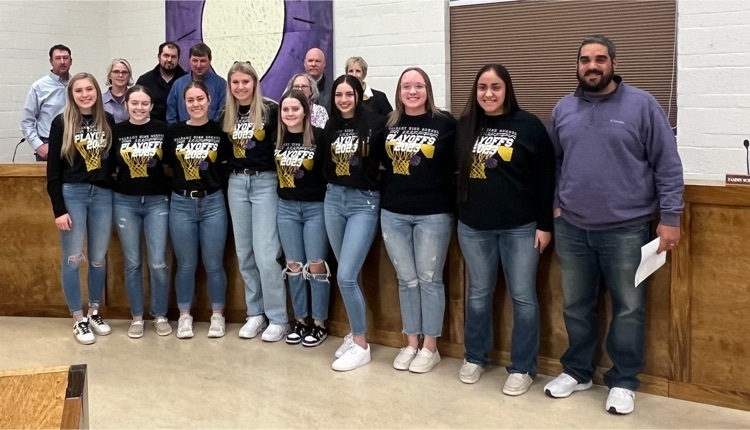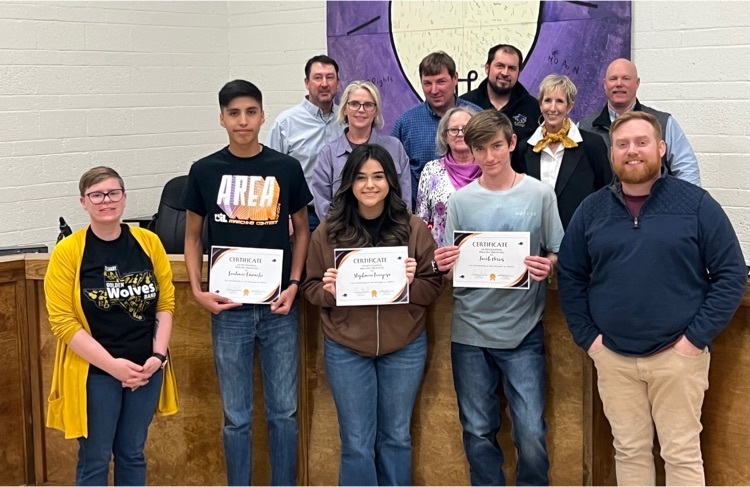 Final at Pampa: Dalhart 47 Childress 57 Your Golden Wolves played their hearts out!